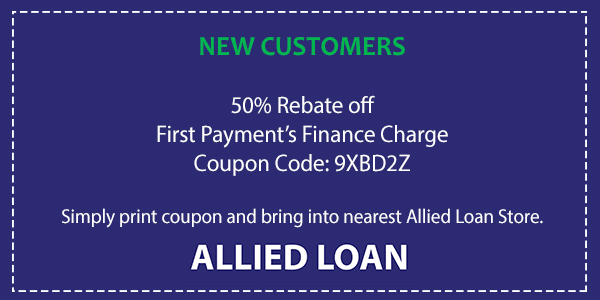 New Customers Only
50% rebate of the interest portion of your first scheduled payment. Paid as a rebate that is separate from your loan obligation. Rebate payment offered only to first-time customers of Allied Loan who present original coupon at time of loan origination and take out an advance or loan of $100 or more. One coupon per household.
Important Disclosures
Allied Loan offers consumer credit products that are generally short-term in nature and not intended for long-term borrowing needs. Loan terms and availability will vary by state.
Subject to Loan Approval / No Credit Required
Loans / advances are subject to loan approval. Allied Loan does not pull applicant's credit score, from the three main consumer-reporting agencies, to determine loan eligibility. Allied Loan uses a proprietary model to evaluate the credit worthiness of each applicant for credit.